Roll over image to zoom in
| | |
| --- | --- |
| PaintAccess | |
| Bunnings | |
| Go Industrial | |
| Mitre 10 | |
| DirectPaint | |
| Airless | |
| Inspiration Paint | |
| Tenaru | |
| Paintspray Tools | |
Festool CTH 48 Dust Extractor
Features
The 48 litre Festool special application dust extractor is your only answer for safe, efficient hazardous dust removal. Asbestos, mould, fibrous mineral dust, lead, cadmium, nickel, zinc chromate - the carcinogenic and pathogenic dust doesn't stand a chance. With the high power suction turbine and a 99.995% degree of filtration there is no danger to health. The two layer safety filter bag prevents contact with the dust when disposing of the bag. Approved for dust class H. As an add on, the extractor can be fitted with air activated modules (for use with air tool on/off activation)or Bluetooth module for remote switching on/off of dust extractor or when working with cordless power tools.
H Class Dust Extractors are excluded from Festool's 30 Day Money Back Guarantee.
H Class Dust Extractors come with standard 12 month warranty.
Optional: Festool H Class Dust Extractors Service Policy
Test report: EVA Respirable Crystalline Silica and Total Respirable Dust Exposures Report
Test report: ESP Airborne Occupational Exposure Report

Main Applications
Removal of carcinogenic and pathogenic dusts
Workshop and on site cleaning
Automatic operation with power and air tools
Wet and dry extraction
Festool dust extractors are fitted with a circuit breaker for safety when a connected load of 1200 watts is exceeded.
Some tools that draw higher wattage can trigger the circuit breaker and if initiated requires the reset button above the socket to be pushed in and reset.
When requiring to use larger wattage tools with dust extraction it is recommended the tool is operated off a separate outlet and a Bluetooth system can then be used to switch the dust extractor on and off as required.
When using tools it is recommended you always use the correct consumable for best results as even lower wattage tools can trip the circuit breaker if the system isn't matched to the application. (e.g.: saw blade not matched to material)
Safe dust removal
Festool's CTH provides maximum safety in the case of carcinogenic and pathogenic dusts such as lead, cadmium, nickel and zinc chromate.
Safety sealed
The two layer safety filter bag prevents contact with the harmful dust when disposing of the bag.
High suction power
Super strong and yet super small, the high power turbine provides considerable higher suction power but takes up very little room.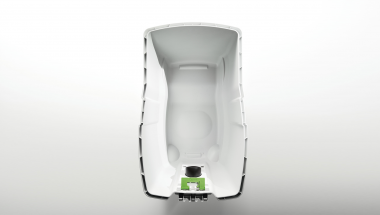 Maximum utilisation
The flat filter design allows the filter bag to unfold easily and expand to use almost 100% of its capacity. Hold more dust in a more compact extractor.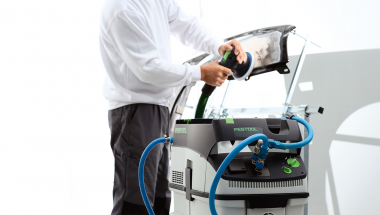 Customise for your needs
Every extractor can be fitted with add on modules to suit different requirements including air modules, power socket with continuous current and EAA module.
Easy handling
The large handle makes it easy to manoeuvre to CTH into place. The integrated locking brake and oversized wheels ensure stability when stationary.
Tech Specs
Maximum Airflow (litres per minute): 3,900 l/min
Maximum Vacuum (Pa): 24,000 Pa
Filter Surface Area (cm2): 6,318 cm2
Container/Filter Bag Capacity (litres): 48 L / 46 L
Power Consumption (W or kW): 350 W - 1,000 W
Auto Clean Function (Yes/No): No
Dust Approval Rating: Dust Class H - high risk dust such as carcinogenic or pathogen contaminated dust
Mains Cable: Rubber Insulated
Mains Cable Length (m): 7.5 m
Maximum Wattage of Connected Tool (W): 2,400 W
Dimensions - L x W x H (mm): 740 mm x 406 mm x 1,005 mm
Weight (kg): 18.8 kg
Includes
CTH 48 Dust Extractor
Safety Filter Bag
Integrated Hose Garage
Cable Wrap
Antistatic Smooth Suction Hose D27 x 3.5 m
SYS-Dock with T-LOC Function
Basic Cleaning Set 27 mm / 36 mm
Tool Manual
Payment & Security
Your payment information is processed securely. We do not store credit card details nor have access to your credit card information.