Roll over image to zoom in
| | |
| --- | --- |
| PaintAccess | |
| Bunnings | |
| Go Industrial | |
| Mitre 10 | |
| DirectPaint | |
| Airless | |
| Inspiration Paint | |
| Tenaru | |
| Paintspray Tools | |
Festool CTL SYS 4.5l L Class HEPA Dust Extractor
Features
Inspirational all round and in every little detail. The CTL SYS Systainer dust extractor demonstrates yet again what the name Festool stands for: High functionality, excellent performance and easy operation. Everything is as it should be. In short: Perfect preconditions for achieving perfect results.
Main applications
For dust with limit values > 1 mg/m³
Ideal for mobile use in fitting and servicing work
Integral automatic electronic switch-on/shut-off for extraction from electric power tools
Ideally suited to smaller-scale grinding, sawing and drilling jobs
Ideal for final clean-up
Working With Hazardous Dust 
Test report: ESP Airborne Occupational Exposure Report
Important Information Regarding Circuit Breaker Electrical Standard
Festool dust extractors are fitted with a circuit breaker for safety when a connected load of 1200 watts is exceeded.
Some tools that draw higher wattage can trigger the circuit breaker and if initiated requires the reset button above the socket to be pushed in and reset.
When requiring to use larger wattage tools with dust extraction it is recommended the tool is operated off a separate outlet.
When using tools it is recommended you always use the correct consumable for best results as even lower wattage tools can trip the circuit breaker if the system isn't matched to the application. (e.g.: saw blade not matched to material)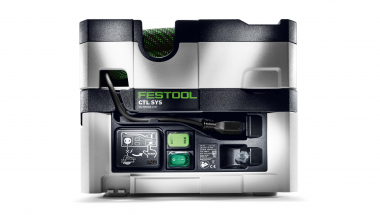 Strong suction power in Systainer format
The CLEANTEC CTL SYS is the ideal companion for fast and mobile use for smaller installation and service tasks: Extremely compact, lightweight, quiet and able to be connected to the Systainer system and used for extracting dust from power tools.
Easy to transport in fewer trips
Thanks to the shoulder strap supplied with it, the CTL SYS is easy to carry, leaving your hands free for any other materials or tools you might need.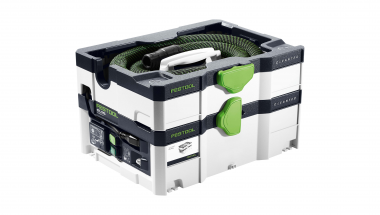 Compact and always tidy
The removable hose holder ensures that nothing protrudes and you do not get caught on any parts when transporting the CTL SYS. The CTL SYS is also ready to use at all times because the hose is already connected to the extractor.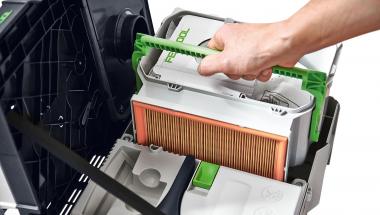 Easy to empty
The dust box in the extractor can be removed and reinserted easily at the touch of a button for cleaning or changing the filter.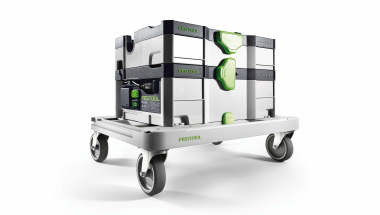 Mobile dust extractor
When combined with the SYS cart, the CTL SYS is provided with a set of wheels, allowing it to follow you with the cumulative suction power of the 1000 W turbine virtually every step of the way.
Sophisticated, convenient and compact
Whether you are working with tools or carrying out a final clean with a floor cleaning set, the removable hose holder and shoulder strap help make working as convenient as possible.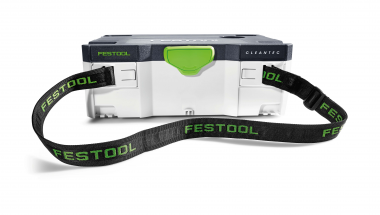 Easy to transport
Carrying the CTL SYS leaves you with both hands free because it can be carried conveniently over your shoulder using the shoulder strap. It also comes with another benefit in that the shoulder strap can be attached either to the hose holder or to the extractor.
Spotless, right down to the very last corner
The CTL SYS has an integrated crevice nozzle and upholstery nozzle always close to hand for a clean finish, even in hard-to-reach places.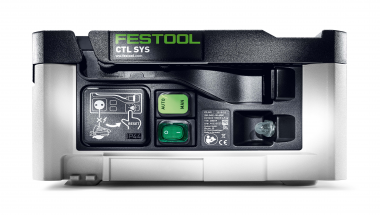 Automatic dust extraction
The appliance socket with automatic switch-on/off activates the CTL SYS as soon as you start up a connected power tool. It can also be switched to manual mode for cleaning work.
Easy on the ears
At a quiet 67 dB, the CTL SYS carries out its work with a particularly low level of noise, protecting not just your hearing but that of your customers too.
Mobile workbench with dust extraction
Coupled with the SYS-MFT workbench, it makes cutting pipes to length an easy and clean job.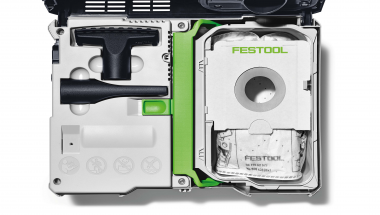 Never forget a thing because it's all there
The upholstery nozzle and crevice nozzle included in the scope of delivery are integrated in the Systainer extractor to prevent loss and are always ready to hand.
Because clean is simply better
Leaving a clean workspace behind you is part of professional performance and ensures satisfied customers who are happy to recommend you
Blow function
You can convert your CTL SYS into a blower.  To do this remove the hose, open the gate at the back of the extractor and plug the hose in.
Includes
CTL SYS Dust Extractor
Selfclean Filter Bag
Antistatic Suction Hose D27 /32 x3.0 m
Upholstery Nozzle D36
Crevice Nozzle D36
SYS-TG Shoulder Strap
SYS-Dock with T-LOC Function
Integrated Hose Garage
Payment & Security
Your payment information is processed securely. We do not store credit card details nor have access to your credit card information.